American Air Museum blog
Stay up to date with the latest news from the American Air Museum. Read articles from our staff and guest bloggers. Log in to leave your comments.
By 2nd Air Division Memorial Library on 29/03/2018
An extract from the West Virginia pages of the first volume of the registers, showing David E Tuckwiller's signature (mc_371-919#169).
The American Red Cross Service Club at the Bishop's Palace in Norwich opened in 1943 to provide American servicemen visiting the city a home away from home where they could enjoy refreshments, recreational activities, and a place to stay. The state registers are a lasting testament to the important role the Red Cross played in bringing together servicemen and aiding their general welfare.
By Lucy May on 24/11/2016
Pilots of the 361st Fighter Group gather together to give thanks for three days' leave (FRE 6186).
Happy Thanksgiving! Here at the American Air Museum we may be decidedly in the UK but it still seems an opportune moment to share some of the things we're particularly grateful for this year:
By Jenny on 30/12/2015
As we head towards 2016, here is a seasonal photo from the Roger Freeman Collection which recently caught the team's attention.
These lieutenants are posing in their underwear, flying helmets and parachute harnesses, which makes this a fairly unusual crew picture, but it captures a moment of light relief for the three young men. Allen Bryson, Sol Greenberg and Albert Gehrt were the pilot, navigator and bombardier of B-24 Liberator 'The Gypsy Queen'. By Christmas 1944, they had completed 21 missions together, flying over France and Germany from their base at Old Buckenham, Norfolk as part of the 453rd Bomb Group.
By ChristianP on 10/11/2015
The Cambridge American Cemetery and Memorial is the burial site of 3,812 American servicemen. A further 5,127 names are recorded on the Tablets of the Missing. Photo: Paul Heys
Ahead of Veterans Day tomorrow, guest blogger Christian has shared with us the memorials dedicated to WWII American servicemen he finds most moving from around the world:
By General ira snapsorter on 30/10/2015
Here's a word (or two!) from Phil Jackson, one of the AAM's vital volunteers, on what it's like working with us at IWM Duxford:
Early in 2013 I was given the opportunity to assist with the American Air Museum project, which involved the sorting, identification and cataloguing of a very large collection of photographs known as the Roger Freeman Collection. After working for about a year on the ' Friends of Duxford' front desk – meeting and greeting visitors, some of whom were very interesting – I was, to be honest, not over-stretched in the post. Still wanting to have an involvement in the Museum I enquired of the Volunteer Manager whether any other opportunities were available, and luckily, up came this job!
By Lucy May on 30/09/2015
With the conserved aircraft back inside, the glass wall of the American Air Museum has begun to go up.
Over the past month the Conservation team at IWM Duxford has been working extremely hard to move all of the aircraft back into the American Air Museum and suspend a number of them. If you're local to the museum, we hope that you had the chance to visit the site on one (or more!) of the days when the aircraft were out and about. For those of you who couldn't make it, here are a few photos of the move:
By K Flynn on 17/08/2015
Introducing Karina Flynn, an Eighth in the East-sponsored intern, working for Bottisham Airfield Museum, at IWM Duxford:
My name is Karina Flynn and I am doing a three month internship for Bottisham Airfield Museum supported by Eighth in the East and IWM Duxford. As part of my internship I will be digitising a collection of nearly 700 photographs belonging to Bottisham Airfield Museum which give a fascinating insight into life on the airbase, the airmen who were based there, along with the aircraft they piloted.
By Rcwittkopf on 30/07/2015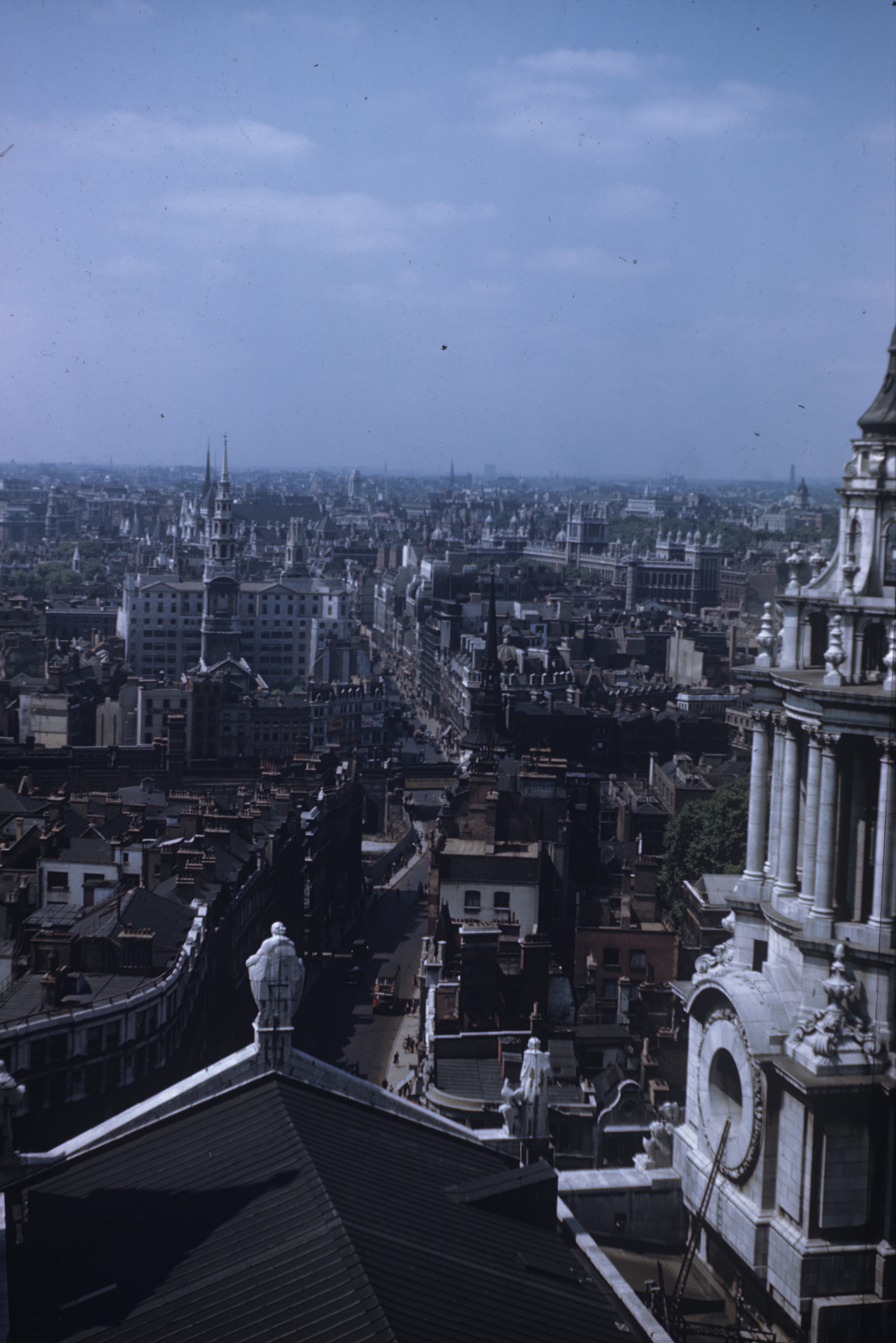 Robert Astrella of the 7th Photo Group took this shot from St Paul's Cathedral looking down Fleet Street during the Second World War (FRE 6935). The teachers will be walking along Fleet Street today as part of a London walking tour devised to take in sights American airmen might have seen when they were here 70 years ago.
"My name is Randee Wittkopf. I am a teacher of world history at a secondary school in Fairfax, Virginia and I feel as if I just won the teachers' version of the lottery." In this post we hear from one of the 16 teachers joining the AAM team for the Summer Residency between 30 July and 13 August:
By WW2 Researcher Bill Beigel on 02/07/2015
B-17 "Wee Willie" going down over Berlin on April 8 1945, just one month before the end of the War in Europe. This photo inspired my WWII research. I originally viewed the crash of "Wee Willie" in a TIME-LIFE history of World War 2 around 1971 at the age of 13.—Bill Beigel
American researcher Bill Beigel talks about his collection of American airmen's casualty records, now available on the AAM website:
By Eighth in the East on 02/07/2015
Participants in an Eighth in the East archaeology training day get to grips with the ambulance garage and mortuary building at Shipdham airfield, Norfolk.
Guest post: Eighth in the East urge you to come along to IWM Duxford on 26 July to learn how to record and preserve your local airfield.