By Rcwittkopf on 30/07/2015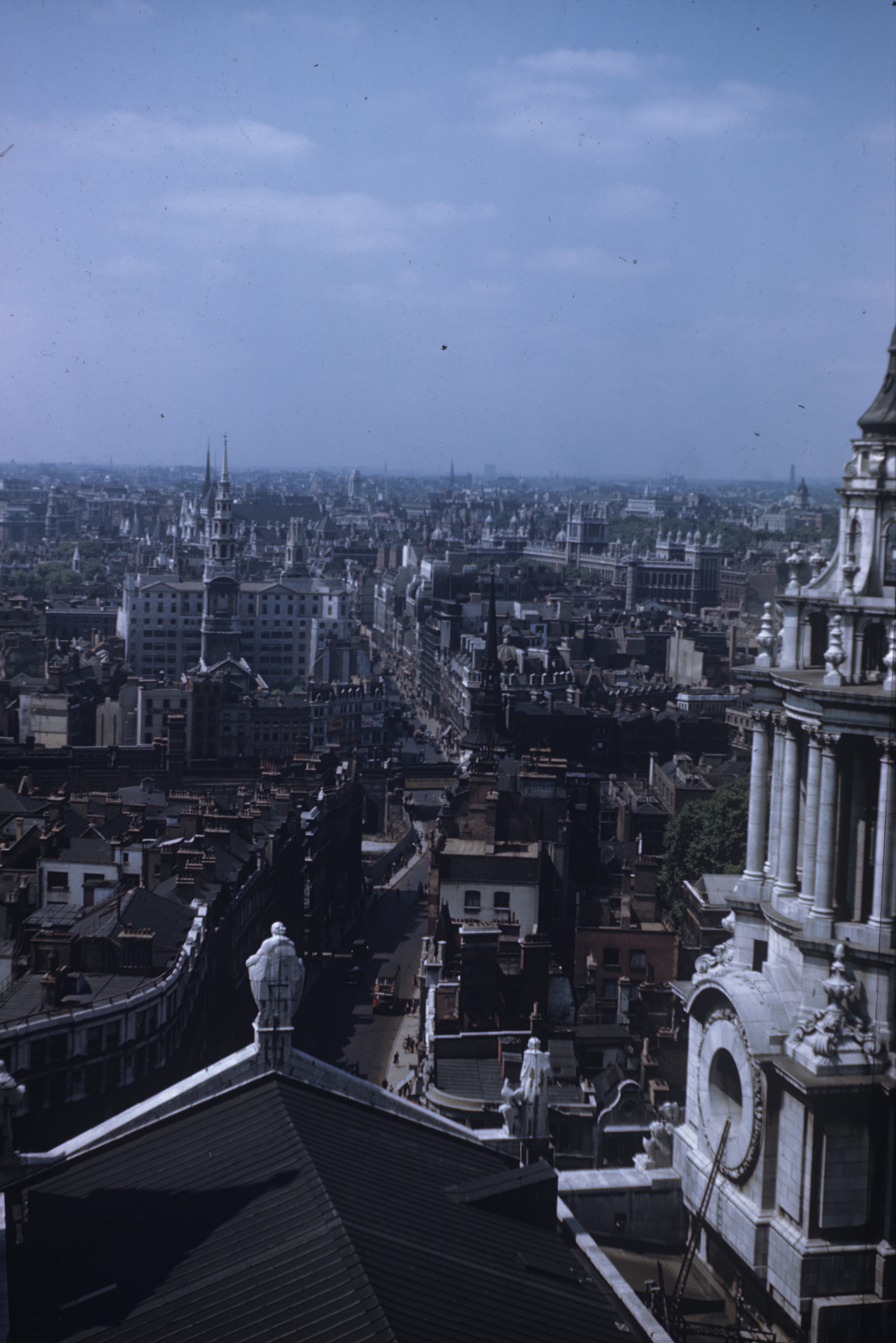 Robert Astrella of the 7th Photo Group took this shot from St Paul's Cathedral looking down Fleet Street during the Second World War (FRE 6935). The teachers will be walking along Fleet Street today as part of a London walking tour devised to take in sights American airmen might have seen when they were here 70 years ago.
"My name is Randee Wittkopf. I am a teacher of world history at a secondary school in Fairfax, Virginia and I feel as if I just won the teachers' version of the lottery." In this post we hear from one of the 16 teachers joining the AAM team for the Summer Residency between 30 July and 13 August:
"This past February, I was selected to take part in the Summer Residency program at the American Air Museum in Britain and I am beyond excited for this wonderful opportunity. When I was first told of the Summer Residency program by my department chair, I knew I had to apply. World War II is one of my passions – it is a subject that I love to explore and have a personal connection through my grandfather and great uncle (who, incidentally, was a member of the Army Air Corps). I waited anxiously to hear back from the AAM, and literally burst out of my chair when I received word that I was going to England. The fact that I have never traveled overseas catapulted me into the giddy range of excitement."
"You see, I have always had a true love for history. If it has to do with the either of the World Wars, I have to read it, see it, and in the case of artifacts, touch it. And while I teach my students about the evolution of the United States, Great Britain and Europe into the modern age and the conflicts that have endured throughout history, I have not had the opportunity to explore and see the impact of these events for myself. It has always been on my list of things to do, but I have never had the opportunity to do it until now."
"My passion for history is evident in all aspects of my life, but especially in my classroom. I love to share my connections to events in history with my students in order to expose them to more aspects of the subject other than just the surface level standards that are required. I try to make history relevant to my students - it should come alive and allow them to realize that the events and people in the past were real - they lived… they happened. My goal is always to find the story that hooks my kids; to engage them in the learning process so that they end up wanting to know more. I am a story-teller of historical events and people and I'm constantly looking for more stories to tell my students. I strive to give them the opportunity to care about what happened in the past. This Summer Residency will take my teaching to the next level. I am hoping it will give me more stories to relate, more tales to tell and more people and events to bring to life in my classroom. World War II is one of the most resource rich subjects in which to explore and foster these connections and it is awe-inspiring to know that I will be able to share the experiences of the American servicemen who sacrificed so much to fight for freedom and ensure our future. My hope is to inspire my students to want to do more to preserve the memories of the servicemen and to carry on their legacy."
Randee Wittkopf
Randee - we hope the AAM Summer Residency lives up to your expectations - we've got a super two weeks all planned out and we're looking forward to meeting you later today and getting started!